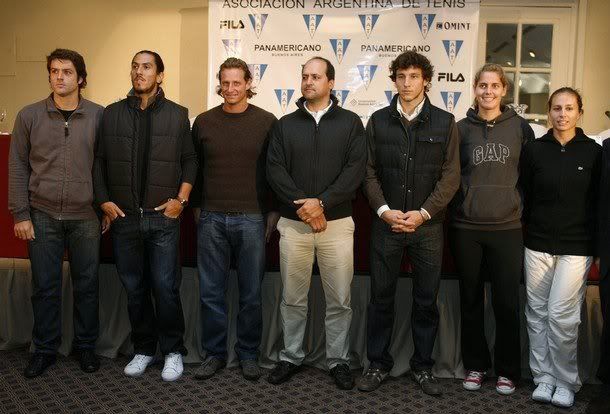 Argentina's Tennis Team on it's way to Beijing 2008 Olympic Games
The Argentinian Tennis team that will represent the south America country gave a press conference before leaving to Beijing.
The executive director of the AAT, Hector Romani, began the conference saying:
"In this farewell, to the captains Ricardo Rivera and Alberto Mancini, we entrust you with this Olympic dream with the same responsibility that you have already shown in previous games, Athens 2004 for Luli and Sydney 2000 and Athens 2004 for Caio. And you, our representatives on the courts at these games in Beijing 2008, we hope that you can demonstrate an excellent level in every match and take advantage of this great Olympic experience, beyond the sport and the fight for any medal. "
"The Argentinian Tennis Association says goodbye to you with the hope of a great performance, and we thank you for wear once again, with pride, the Argentinian shirt." he concluded.
Then the media began with the press conference in which captains and players talked Beijing, injuries, and now Davis Cup.


During the press conference the captain of the Argentine tennis team, Alberto Mancini, made emphasis on the technical potential of his squad, and expressed confidence about getting a medal in the Olympic Games of Beijing 2008.
"We hope to have a good time at this Olympic Games. It will be a tough tournament, but the expectation is to bring a medal because there are very good players in single and doubles," said Mancini.
It revealed that one of the best chances of achieving a medal are in the doubles tournament, where Argentina has integrated with partners and major players that are known.

"In doubles usually couples are made with players from different countries. Therefore, to form a good pair of doubles for the Games is quite possible. We have a great chance with David (Nalbandian) and (Guillermo) Cañas, and Augustin (Calleri) and Juan (Monaco), because both team have chance to make it far" said Mancini.
Also, Luli, who played the Barcelona Games 92, confessed that "it is nice to be in the Olympic village with athletes who are legend and you can be close to them."
"There is an atmosphere of camaraderie, to be able to talk to all Argentine athletes generates something special," recalled a melancholy Mancini.
For it's part, the leader of the men, David Nalbandian, acknowledged that he arrives in Beijing with a little lack of matches due to the preparation and an injury didn't allow him to play at the Masters Series Toronto and Cincinnati.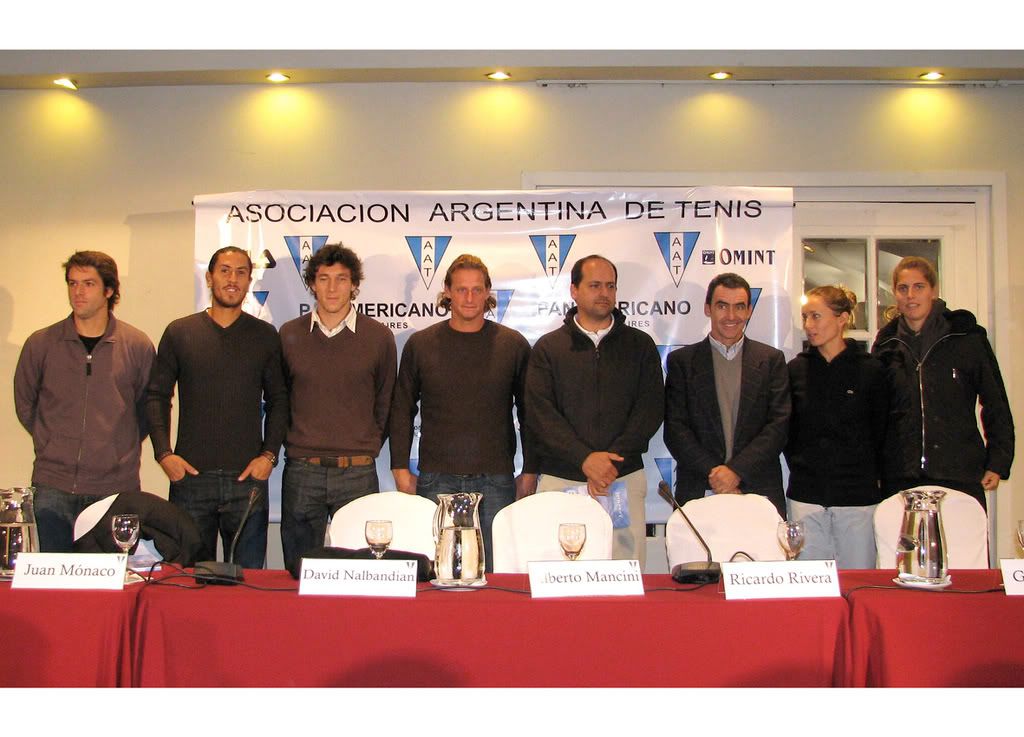 By ranking and country quota had entered directly to the womens singles draw Gisela Dulko, while Nalbandian, Monaco, Calleri (replacing Chela) and Cañas, made it to the mens draw.
The association Argentina of Tenis requested two wild cards for female singles to Maria Emilia Salerni and Betina Jozami, but they were not granted by the ITF.
For the doubles, the AAT requested invitations to three couples, all confirmed.
Dulko and Jozami, will play on the womens doubles while Cañas-Nalbandian and Calleri-Monaco will play for the men.

The Argentinian delegation is complete with Ricardo Rivera, the current captain of the Fed Cup team and women's team in Beijing, Alberto Mancini, captain of Davis Cup and the men's team in the Games, along with Diego Rivas, physio.

The tennis competition will start on Sunday August 10th and ends seven days later, and will be played at the Olympic Tennis Centre in Beijing, which has ten competition court and six for training.


Information from Prensa AAT translate by WTA Womens tennis
Photo Prensa AAT